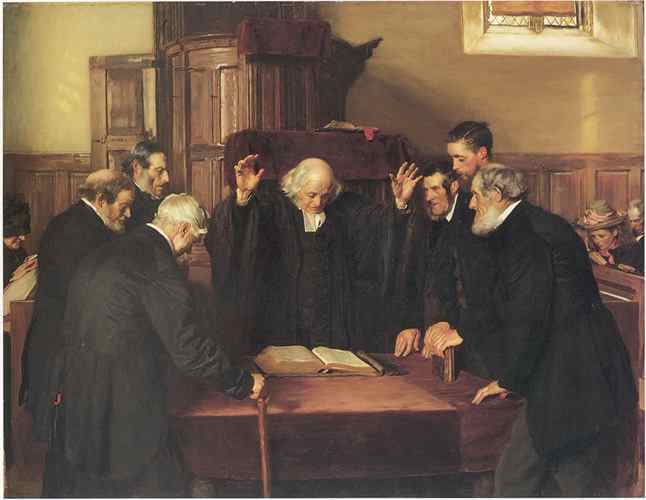 It's not what we are doing, it's why we are doing it. Here at Shepherd's Stream we believe America as a nation has been blessed by our Lord because we are a Christian Nation. At the time of the nation's founding, few people believed that education could be divorced from religion; religious instruction was viewed as being indispensable for the inculcation of virtue and morality in children. However, the religious landscape of the United States continues to change at a rapid pace. 
More than 55 years after the Supreme Court issued its landmark ruling striking down school-sponsored prayer, the religiously unaffiliated share of the population, consisting of people who describe their religious identity as atheist, agnostic or "nothing in particular," continues to grow. Many, many churches across this great land close each year due to lack of attendance. Today contemporary emphasis in evangelicalism is a believer's personal relationship to Christ. That individual faith is the pervasive theme, and rarely is there any discussion of how believers are supposed to fit into the church. Scripture teaches us that coming to Christ means coming to His church and repeatedly emphasizes the importance of local assemblies and teaches that every Christian is to be under the protection and guidance of a local church.
No previous generation has been blessed with the means of mass communication like ours. Shepherd's Stream does not subscribe to the idea that the Church of the future is a network, that it will be digitally based. The church is a fellowship, it is shared life. It's true that online Christian engagement continues to expand rapidly through the use of digital technologies, however, a streaming internet worship service is not an adequate way "to get connected" with the Body of Christ nor does it replace the fellowship of corporate worship. 
The Great Commission in The Gospel of Matthew commands us to "go and make disciples of all nations, baptizing them in the name of the Father and of the Son and of the Holy Spirit".  Shepherd's Stream has been built as a cost effective solution that supports the local church in its mission. We offer the tools needed to communicate securely on a Christian platform designed as a supplement to your regular fellowship and Lord's Day services. 
If you are reading this we ask you to join us. If you are unsure of what the Gospel is or who Jesus Christ our Lord is please visit this link here. If you need help finding a church we have provided tools for you to search in any area of the country or you can reach out to us and we will be glad to help. Remember, coming to Christ means coming to His church. If you're a Pastor or Elder and feel this ministry would be a good supplement to your regular fellowship and Lord's Day services please join us. If you have any suggestions or criticisms please feel free to reach out. We would love to hear from you. 
Contact Us
Shepherd's Stream™LLC
P.O.Box 1176
Ocean Shores WA 98569
360.245.4210
Email Us